Michael Watkins now sets up fake Forex Crypt account on Twitter proving he sent the proton mail emails 30/05/2020
Michael Watkins has now implicated himself in the anonymous protonmail emails sent 30/05/2020 under https://forexcrypt.com/michael-watkins-now-sending-out-emails-saying-people-are-under-surveillance-he-is-warped/
Twitter account @forex_crypt today 31/05/2020 posted this showing an apparent falsification on my behalf…. (this is Michael Watkins under a fake account trying to defame me…)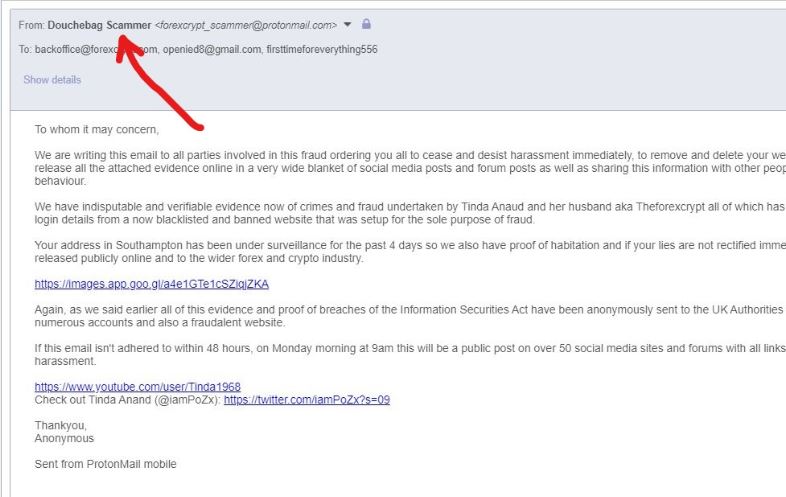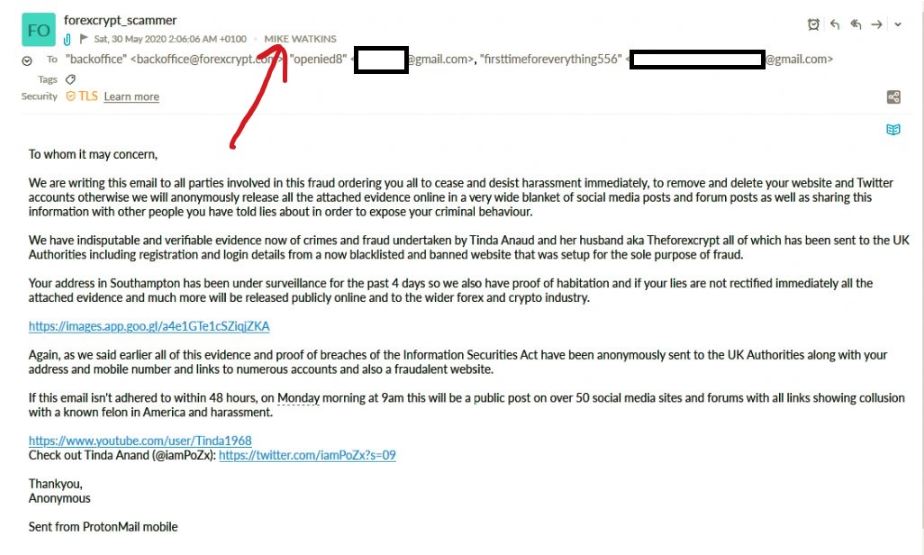 By posting the email that was sent to him from me and now creating a fake Twitter account to further harass me – he has just implicated himself in sending the harassing and intimidating email from the anonymous proton email 30/05/2020 under https://forexcrypt.com/michael-watkins-now-sending-out-emails-saying-people-are-under-surveillance-he-is-warped/
Outstanding.
The best part?

"MIKE WATKINS" is the inbox folder label my mail program labels the email.


Michael Watkins has just implicated himself in sending harassment and intimidation from the anonymous protonmail account.

In his desperate attempt to defame me, he has just revealed to us all that he did indeed send the anonymous protonmail emails harassing and intimidating me – telling me that I am under surveillance and that he will be revealing public information on me if I don't take this website down.